The only Denver Halloween party you should know about is Coloween at the Curtis. But if you don't have your tickets by the time Coloween sells out, or if you're just interested in checking out the competition, we've provided a short list of some of the other Halloween parties happening in Denver this weekend.
Paranormal Palace
Adjacent to the capital building, the 8th Paranormal Palace is another Halloween party in Denver this weekend. The McNichols building  is a historic building and sure to have a few ghosts lurking its halls.  Live bands, DJs and performers make 8th Paranormal Palace will entertain guests on Saturday October 29th and Sunday October 30th 2016.
Halloween Extravaganza 2016
It's Halloween all week at ViewHouse Eatery, Bar & Rooftop. The venue is hosting six frightening nights of Halloween parties starting on the 26th and finishing on the 31st. If you're looking for something to do the night before or after Coloween at the Curtis, why not check out Halloween Extravaganza 2016 at ViewHouse?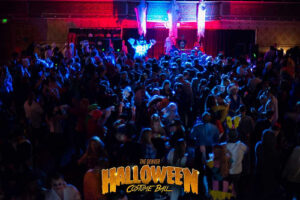 Denver Halloween Costume Ball
The Sherman St. Event Center is another historic building hosting a Halloween party this year. Denver Halloween Costume Ball takes places on All Hallows' Eve (October 31st) and is a great destination for celebrating Halloween night. We recommend partying at Coloween Saturday, recovering Sunday and then heading down to the Costume Ball on Monday.
Halloweekend Pub Crawl
While Coloween delivers the perfect upscale open bar alternative to the classic bar and club events, you can't go wrong with a good ole' fashioned pub crawl. Halloween Pub Crawl is taking place three nights — Friday, Saturday and Monday (Halloween) — with plenty of bars to explore while dressed up for the occasion. Just don't expect too much elbow room at these Denver Halloween parties!
Coloween at the Curtis
Coloween at The Curtis Hotel is by-far the most anticipated Halloween party in Denver each year. Coloween 2016 features two-full floors completely covered in Halloween and haunted house décor for guests to explore. The hotel-takeover features live local artists, three large ballrooms and a full open bar. VIP bottle service is also available!
Buy your tickets to Coloween at The Curtis while you still can to secure your place at one of the world's best Halloween parties and open bar events in Denver! Still need a costume? Check out the Tackiest Costumes for 2016 and Tiffany Toth's Sexy Halloween Costumes.