Coloween 2021 is set to take place at Stanley Marketplace for the second year. The new home for Coloween has completely redefineded what it means to celebrate Halloween in Denver, Stapleton, and Aurora, Colorado. The 11th annual Coloween is guaranteed to be one of the best Halloween parties in Denver. With over a decade of event planning experience, Collective 360 — the team behind Coloween and Resolution NYE — are stepping it up a notch this year with a new venue takeover. This year's Halloween party features an abundance of music, delicious dining options, an expansive event space, unique retail shops, and a decadent selection of adult beverages. Not to mention our famous costume contest with a $1500 cash prize!
Coloween at Stanley Marketplace
Inside the Marketplace
This year, Collective 360 is stepping it up a notch by moving our highly successful Denver Halloween party to a new venue — Stanley Marketplace. Located in Stapleton, Colorado, Stanley Marketplace is a one-of-a-kind indoor market which will be completely transformed into a frightfully fantastic Halloween party venue. The community-focused marketplace is located smack in the middle of two different neighborhoods and makes for the perfect space to celebrate Halloween in Colorado.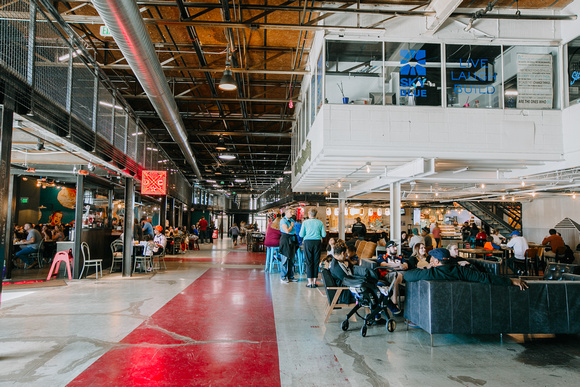 Unique Retail Shops
Many of the Colorado-owned businesses that reside in Stanley Marketplace will be open during Coloween night. These shops will give attendees, even more, to experience this year's incredible Halloween party.
Denver's Top Restaurants
Stanley Marketplace is home to some of Denver and Aurora's top restaurants, such as Denver Biscuit Company, Maria Empanada and Mondo Market. Drop by Coloween early — doors open at 9pm — to grab some delicious grub before dancing the night away to local DJs.
Plenty of Seating Areas
Thanks to the unique and quirky event space, you and your party crew will have the luxury of kicking up your feet for a bit at this year's Coloween. Grab bite to eat and sit down for a bit to catch your second wind!
Coloween Entertainment
Halloween-Themed Bars
It wouldn't be Coloween without a plethora of themed décor and entertainment! This year, we'll have numerous themed bars for you to experience while enjoying delicious libations. Drinks are included with your Coloween tickets!
Festival-Style Décor, Lighting, and Sound
Coloween at Stanley Marketplace is professionally decorated with extra attention to detail to make your Halloween 2021 an unforgettable experience. Each of the venue's spacious event areas will feature Halloween themes with professional sound and lighting designed to scare your pants off while you party your socks off.  Coloween delivers some of the best live performers and the themed décor in Denver.
Live Local DJs
With multiple DJ booths throughout the marketplace, our Coloween DJs will be spinning some of the best music in the nation, including — but not limited to — Top 40, Hip-Hop, Reggae, and House music.
Enormous Dance Area
The giant aviation hangar at Stanley Marketplace will be transformed into an enormous dance area where you dance the night away in your Halloween costumes!
Costume Contest
Ready to win some cash? Coloween is known for being the best Halloween costume party in Denver! With a $1500 cash prize, be sure to wear your most impressive costume imaginable for your chance to win!
Everything You Love About Past Coloween Events
For the past decade, Coloween has delivered the perfect combination of costumes, drinks, and music to partygoers in the Greater Denver Area. Collective 360 is proud to be known for throwing the biggest and greatest Colorado Halloween events every for more than 11 years. As far as Halloween events in Denver go, this year's Coloween event will be as fierce as it will be frightening.
Get Tickets to the Best Halloween Party in Colorado
Guests at Coloween 2021 enjoy a one-of-a-kind experience with the classiest costume party in Denver. Located at 2501 Dallas St Aurora, Colorado 80010, adjacent to Denver's Stapleton neighborhood and Northwest Aurora, Stanley Marketplace will be home to the most anticipated costume party in the state – Coloween. The event begins at 8 pm on Halloween weekend — Saturday, October 30th, 2021 — and continues until 2am. Early-bird tickets to the event start at just $34.
Tickets to Coloween at Stanley Marketplace will sell out fast so be sure to secure your spot and celebrate Halloween 2021 in style!
Follow @coloween on Instagram for a chance to win free tickets!

Join the Facebook event to get event updates and see who's going!