Whether you're looking for the best funny Halloween movies, scary Halloween movies, or Halloween movies for adults, you can't go wrong with these killer films. The 11th annual Coloween — touted the BEST Halloween party in Denver — is on the horizon. That means it's time to start getting in the spirit of the spooky holiday Halloween aesthetic. To help you, we've compiled a list of the top scary Halloween movies for adults. Between Andy Muschetti's interpretation of Pennywise the Dancing Clown in "It" and Jack Nicholson's portrayal of a writer turned homicidal maniac in "The Shining," these films will send a permanent chill down your spine.
Looking for things to do in Denver on Halloween weekend? Why not plan a Halloween-themed movie watch party? For those looking to catch the holiday's feels without braving these scary flicks, we have you covered with the top funny Halloween movies for wusses…er, I mean adults!
The Best Adult Halloween Movies – Horror Films (2023 Edition)
Scary Halloween Movies for Adults
Nightmare on Elm Street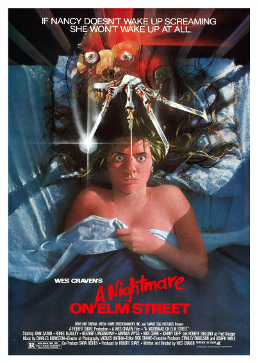 This flick should sit at the top of every list of scary Halloween movies for adults. Freddy Krueger is the star villain in the nine "Nightmare on Elm Street" slasher films. Clad in a trademark red and green sweater and metal-clawed glove, the disfigured man haunts and kills children in their dreams. Each "Nightmare on Elm Street" is a quintessential scary Halloween movie for adults who are daring enough to watch. Those adults would appreciate Coloween, and they should purchase their tickets today!
Annabella
Meet Annabelle, the world's creepiest doll. This scary Halloween movie trilogy for adults centers around a demonically possessed porcelain doll. She first appears in "The Conjuring — more on that later — where she is observed by paranormal investigators Ed and Lorraine Warren. The Annabelle trilogy explains the doll's origins and shows viewers just how sadistic she is. And perhaps the scariest part of it all is that the movies are based on real events.
It
The 2017 film adaptation of Stephen King's horror novel "It" is easily one of the scariest Halloween movies for adults that's out there right now. "It" features Pennywise the Dancing Clown, a shapeshifting monster who feeds on the fear of children, and seven small town children — "The Losers' Club" — who are terrorized by him. Themes of good versus evil, coming of age, death and sacrifice are woven throughout King's horrific plot. While this film stars a clown, his smile is far too terrifying to be considered one of the top funny Halloween movies for adults.
The Shining
"The Shining" is one of the most well-received horror films on this list making it one of the best scary Halloween movies for adults. Is yet another horror novel by Stephan King that was adapted to the silver screen. Audiences meet Jack Torrance, a writer seeking inspiration, who accepts an off-season caretaker position at a historic hotel. Jack and his family move and reside in the hotel, which telepathically reveals events from its horrific past to his son, Danny. The longer the family stays in the ominous hotel, the more unhinged Jack gets.
The Exorcist
This 1973 classic is the reason why supernatural horror movies exist. In it a 12-year-old girl named Regan falls victim to demonic possession. Regan's unusual behavior prompts her mother to get two priests to perform an exorcism on her. This scary Halloween movie for adults shows just how creepy early special effects makeup was. Duplicate Ragan's sickly look at Coloween! Order your tickets here.
Friday the 13th
Jason Voorhees is the serial killer in all 12 movies in the "Friday the 13th" series. Jason, who dons a hockey goalie mask, haunts campers and staff members of Camp Crystal Lake. The camp is the same one he drowned at as a boy as a result of the staff's negligence. Full of suspenseful music and jump scares, each Friday the 13th film isn't for the faint of heart.
Paranormal Activity
What's a scary Halloween movie for adults without some scenes in night vision, right? Well, Paranormal Activity delivers that and more. There are several movies in the Paranormal Activity series. All films are scary, but the first sets the bar high. It follows a couple who is haunted by a poltergeist in their home. They document the haunting overnight on their camera, which reveals some scream-worthy moments.
Halloween
Its namesake alone makes this film a must-see among scary Halloween movies for adults. Composer John Carpenter's "Halloween" theme song is as iconic as the movie itself. The tune creeps up on you like the film's sinister main character, Michael Meyers. Michael is a deranged soul who kills for the fun of it. On Halloween night in 1978, Michael kills a group of teens except for Laurie Strode, cinema's first-ever scream queen. It's spooky, scary and bloody — cornerstones of any great scary Halloween movie for adults.
The Conjuring
This 2013 scary movie will get you in the Halloween spirit after tuning in for 15 minutes. Ed and Lorraine Warren, paranormal investigators and husband and wife, assist a family who is experiencing unexplainable things in their farmhouse. The couple discovers the house once belonged to an accused witch. The Conjuring birthed a second and third movie, and spin-offs like (dun, dun, dun) "Annabelle."
Top Funny Halloween Movies for Adults
Beetlejuice
Tim Burton's "Beetlejuice" is a great Halloween movie sans the spooky stuff. If you're looking for funny Halloween movies for adults, you're guaranteed to get plenty of laughs from "Bettlejuice." Audiences meet a mischievous ghost, Beetlejuice, who is summoned from the afterlife when his name is repeated three times. Beetlejuice was hired by a recently deceased couple to drive out an annoying family living in their home. Although this malicious spirit's physical appearance is kind of scary, the movie is anything but.
Young Frankenstein
This funny Halloween movie for adults is a parody of the horror genre. The funny Gene Wilder plays the descendant of the infamous Dr. Victor Frankenstein. To separate himself from his grandfather, Wilder insists that people pronounce his surname as Fronkonsteen. Frononsteen follows in the footsteps of his grandfather by re-animating the dead. The absurdity of this film will prompt plenty of belly laughs.
Shaun of the Dead
A British film so funny you may cry from laughter. No one takes Shaun seriously. He works at an electronic store and has no direction in life. What began as a seemingly normal morning for him escalates into a zombie apocalypse that has taken over all of London. Shaun and his best mate Ed are a pair of lovable losers who brave the zombies to save Shaun's mother and girlfriend. This is a great scary Halloween movies for adults to watch before attending Coloween's epic costume party.
What We Do in the Shadows
Dry humor is the pulse of "What We Do in the Shadows." This New Zealand mockumentary follows the lives of four vampire roommates living in the modern world. The roommates wrestle with the mundanities of everyday life, like paying rent and resolving roommate conflicts. It's like watching "The Real World" but with vampires as the cast, making it one of our favorite funny Halloween movies for adults.
Nightmare Before Christmas
Here's one of the all-time best genre-bending funny Halloween movies for adults, children and seniors alike. It's possible that Tim Burton's "Nightmare Before Christmas" is the poster child flick of Halloween. Jack Skellington is the film's main character who is coined as "The Pumpkin King" in his hometown. Jack stumbles across a town devoted to Christmas. He decides to do Christmas his way by presenting the townspeople with Halloween-themed gifts. Halloween-themed everything will dress the Stockyards Event Center for Coloween 2023. Order your Coloween tickets today to experience it for yourself!
Funny Halloween Movies that are also Scary
Zombieland
With the perfect blend of horror and humor, this film could easily earn a place on the list of top scary Halloween movies for adults as well as well as the top funny Halloween movies for adults. "Zombieland" takes place is a post-apocalyptic world where Columbus, a geeky college student, journeys across the U.S. to find a zombie-free zone. He encounters and befriends a few folks along the way who join him in his quest. "Zombieland" is packed with action and humor. Oh, and Comedian Bill Murray plays himself in it. 
Abbot and Costello Meet Frankenstein
Here's a movie that can truly be deemed both scary and funny, "Abbott and Costello Meet Frankenstein." American comedy duo Bud Abbott and Lou Costello play baggage clerks who make light of meeting some of the horror landscape's scariest creatures, including Count Dracula, Frankenstein's monster and the Wolf Man. Scary scenes are followed by comedic relief throughout the film. If you haven't already, now's your chance to catch of the scariest funny Halloween movies for adults!
Plan a Coloween Pre-Game Watch Party
After watching one, two or all of the scary movies for adults listed above, you will be well-equipped to take on Halloween and its most epic party, Coloween. Planning a pre-game party? These funny Halloween movies for adults will put you and your friends in right mood to party. Now in its 11th year, Coloween promises to be bigger and better than ever before. There will be premier entertainment, dancing, amazing food and drinks, a costume contest with $1,500 cash prize and much more.
Attend the Best Halloween Denver Party
As Westword so kindly put it, "Nobody parties harder on Halloween than Coloween." It's true. Join the Halloween party of the century by ordering your Coloween tickets today. Early bird tickets are $59.60 (plus a convenience fee) and available now until October 30th, 2023. Get your Halloween tickets to the best Stapleton Halloween party, here!
Don't Wait Too Long or Tickets Will Sell Out!