Are you looking for things to do in Denver on Halloween weekend? Halloween is the perfect time of the year to release your inner freak, up to your fear factor, and with the booze, the costumes, and the mayhem, the best time to party. When it comes to choosing the best things to do in Denver on Halloween weekend, you can't go wrong with one (or all) of these options. Check out some of the best Halloween attractions in Denver.
Top 5 Things to Do in Denver on Halloween Weekend 2023
Coloween – The Ultimate Denver Halloween Party
What would Halloween be without an outrageously fun party? Kicking off their 11th year as Denver's top rated Halloween party, Coloween's bringing back all the thrills and chills on Saturday, October 30th. This year, Coloween is taking over the Stockyards Event Center, transforming this huge open air market into their own Halloween spectacular, with incredible lighting and production design. Featuring two large stages, a giant dance floor, and twisty corridors with different themed bars, Coloween is the event of Halloween. It's open bar all night long, so bar crawl your way through the haunted corridors, where you don't have to worry about waiting in long lines to get a drink.
With a variety of DJ booths throughout the event, they'll be spinning the best music to dance to – including Top 40, hip-hop, reggae and trap. Bring your costume A-game, people go all out in the hopes of winning the $1,500 costume prize. Coloween features some of the sexiest, most inventive, and scariest costumes around. Halloween always sells out, so be sure to get tickets before they're gone. When it comes to things to do in Denver on Halloween weekend, the biggest party of the year is the best place to start. Did we mention the open bar?
Spooky Fun Runs – Do a 5 or 10k
This is Colorado, where any holiday event can be turned into an excuse to exercise. For people looking to counter some of their candy binges, try the Monster Dash, a 5k or 10k run on Saturday, October 30th. The dash starts at 9 am, it's a flat and fast run with loops around scenic Sloan's Lake park. It's a great way to burn off extra calories before you squeeze into your sexy costume and experience other Halloween attractions in Denver.
 Or if you want your running to come with a side of beer, head down to Boulder to do the Boos and Brews Halloween 5k at Avery Brewery. The race kicks off Saturday, October 30th at 11 am, where all running or walking levels are welcome. Costumes are encouraged and prizes will be awarded to the best male, female and group costumes. Participants over 21 can finish with a cold beer, the perfect primer before you hit up an epic Halloween party.
Haunted Houses – The Scariest Halloween Attractions in Denver
Along with candy, costumes, and one of the best party nights of the year, Halloween is all about scaring yourself senseless. If you're looking for frightening things to do in Denver on Halloween weekend, visiting a haunted house should hit the top of the list.
As far as Halloween attractions in Denver go, the most infamous haunted house is the 13th Floor, one of the craziest and most terrifying haunted houses in the country. Based on the legend of the spooky 13th floor, guests wind their way through a frightening horror tour. With a new location, special effects makeup, and scary sets, the 13th Floor goes all out to scare the pants off you. The scares start September 11th and run until November 7th.
Or try the Haunted Field of Screams, Colorado's largest scream park. Located by the haunted Riverdale Road in Thornton, this 40-acre corn field offers a sprawling park of horrifying attractions. There's four main attractions sure to terrify you, including Condemned, Zombie Paintball Massacre, Dead Man's Maze, and CarnEvil in the Corn. If you're looking for Halloween attractions in Denver that can terrify you in ten different ways, this is your place. The Haunted Field of Screams runs from October 1st– November 2nd.
Check out our list of the top haunted houses around Denver for more scary favorites. Once you have your adrenaline pumping, you'll want to hit up Coloween to keep the scary good times going.
The Denver Zoo and Botanic Gardens Halloween Attractions
If haunted houses are a little too scary, Glow at the Gardens might be more your speed. Typically running October 21st-25th, each night Denver Botanic Gardens transforms into a glowed up light festival, with luminaria-lined pathways, spooky lighting displays and hundreds of carved, glowing gourds. Watch as pumpkin artists create larger-than-life sculptures, incredible jack-o'-lanterns, and ornately detailed showpiece pumpkins. Feel like a kid again with trick-or-treating, glow-in-the-dark games, scavenger hunts, Halloween carnival games, fire performances and pumpkin carving demos.
This is one of the best Halloween attractions in Denver if you're looking to see pumpkin carving taken to a whole new level. Stop by the Denver Botanic Gardens on Saturday, October 30th  from 9 am to 2 pm to pick up the free leftover jack-o'-lanterns while supplies last. Tickets go on sale in September and you need to sign up for a specific date and time to keep congestion to a minimum. The Denver Zoo's Enchanted Hollows is another low-key way to get some eerie chills without too many scary thrills. Travel through the zoo at night on an eerie trail, with the zoo animals all around you and other Halloween creatures come to life. Enchanted Hollows runs from October 3rd-25th, come see the Denver Zoo at night from a new spooky angle.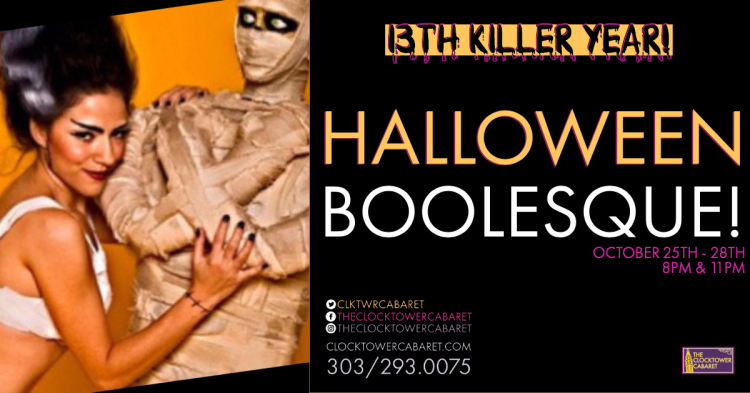 Boo-lesque Halloween Burlesque and Comedy Show
Celebrate the 15th annual Boo-lesque Halloween Burlesque and Comedy show at the Clocktower Cabaret. The Clocktower Clockettes will pay a spooky burlesque tribute to Halloween. It's such a scary scene The Clockettes jump right out of their shirts. Hosted by Naughty Pierre, the event typically features aerial feats, jugglers, magicians, comedy, and camp. It's old-fashioned fun with interactive comedy, costumes are encouraged, and there's a prize for the best costume at the show. The Boo-lesque show has become a Halloween staple if you're still looking for things to do in Denver on Halloween weekend. The show runs from Thursday, October 24th thru Thursday, October 31st, so you can catch a show during the week and still hit up the most epic Halloween party in Denver on Halloween weekend.
There's a whole host of things to do in Denver on Halloween weekend, so whatever you do, don't let it slip by. Put on a costume, brave a haunted house, go for a run, test your pumpkin carving abilities, and most importantly, hit up the blockbuster Denver Halloween party of the year.
Lots of Halloween Attractions in Denver
While Coloween has long been one of the best things to do in Denver on Halloween weekend, there are plenty of other Halloween attractions in Denver as well. Why not check out all of these events? Check out the Boo-lesque on Thursday, Denver Zoo on Friday, Coloween on Saturday, and haunted houses on Sunday!? And if you're just feeling lazy AF, put a sheet over your head to get into the 'spirit' by watching some funny or scary Halloween movies for adults.
Coloween 2023
Get your tickets to Coloween 2023 – at the Stockyards Event Center – to experience one of the best Halloween parties in Denver! Buy your Halloween party tickets today!
Pick Out Your Costume: