UPDATE: Coloween Halloween Tickets for 2023 are on sale! Check out these scary Halloween costume ideas for couples and costumes for men with beards for more inspiration!

Best Old School Halloween Costume Ideas 2023
Denver Halloween 2023 is creeping up around the corner and having the perfect costume is a must in Colorado.
Traditionally half of Halloween party-goers strive for the most outrageous, unthought-of costumes, while the other half go to the closest Halloween shop the day of to pick up whatever is leftover at the last minute. Whether stepping out on the scene solo, as a couple, or with a group, there is no reason not to have a great costume.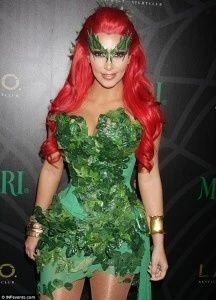 Celebrities are notorious for having the best of the best costumes.  Kim Kardashian blew fans away in 2011 when she dressed as Poison Ivy- rocking long, fiery, red hair with an emerald dress layered in leaves that hugged every curve.
Diddy wasn't afraid to throw on some eyeliner and a purple, velvet cape to strut his stuff as the one and only Prince. During a Halloween party, former couple Ryan Seacrest and Julianne Hough were spotted dressed as the dynamic duo Bonnie and Clyde. Nicole Richie and her gal pals all dressed as Wilderness Girls from the 1989 throwback, "Troop Beverly Hills." All great examples of how fun and creative Halloween costumes can be.
Not everyone will be comfortable with fiery, red hair or eyeliner, but there are other fashionable options available. Superhero costumes are popular for both girls and guys alike. People cannot go wrong with a stealthy Batman costume or a fierce and sexy Cat woman costume. But an old school Halloween costume is always a classic win.
A lot of people are searching for a group costume idea these days! Maybe your department at work is looking for a group costume idea for the annual costume contest. Or perhaps your family would have fun trick-or-treating in coordinated outfits. And Halloween is just more fun when you unite with friends and collaborate on a common idea. The impact of an amazing group costume will leave a lasting impression on everyone's minds!
Group costumes not only allow a number of people to join in the fun, but they let those who are Halloween-challenged participate without the stress of planning. Some people have oodles of creativity and love to come up with ideas, while others just aren't that into it. If you have a large group, it may be hard to get everyone "on board" with a common idea, especially if what you choose is expensive or difficult to assemble. So stick with simple ideas that each person can make for themselves or general ideas that can be interpreted in many ways and tailored to each person's preference. For instance, you could choose "Party Time" as a theme, with everyone wearing party clothes, party hats, noisemakers, fake martinis, confetti hanging all over, holding balloons, etc. Each person in the group can put their own spin on what they wear and make it as elaborate or simple as they choose.

Take a minute to plan a fun costume and the party you are going to attend and make this Halloween a great night in Denver. Check out the Reinke Brothers, Inc. costume store located at 5663 S. Prince St., Littleton, Colorado and for the best Halloween costume ball and special events check out City Halloween at City Hall in Denver.
Here are five pointers of what not to do on Halloween with your costume.
Don't over explain
Sometimes it's best to let your costume speak for itself. If you're wearing a slinky blue dress with devil horns and a devil tail, you don't need a tag that says "Devil With a Blue Dress On." The element of mystery just adds to the surprise!
Don't wear last year's inside joke
Stick to current Halloween costumes.
Don't be overly obscure
Are you going to transform yourself into your favorite movie character from an obscure, decades-old Indie film? Yes, it will be truly unique. But if not a single person at the party has seen that movie, your uniqueness won't mean anything. It'll just be awkward!
Don't be too obvious
Don't just throw on any old boring costume. If you really can't come up with something more creative than a ghost, then how about Charlie Brown's ghost costume (with tons of eyeholes), a Pacman ghost, or the Ghostbuster logo? Or, go ahead, be Little Miss Muffet for Halloween. But stand out from the rest by covering yourself with fake spiders, and adding spider bites, fake webs, etc. Take a good idea and turn it into something great!
Don't fail to think about comfort
Covering your entire body in gold paint makes a great costume, especially if your husband is going as James Bond. But think about it. How are you going to sit? Won't you be a bit chilly? The same thing with a full mask – does it really make sense to wear that to the party or is it just going to end up around your neck all night? Trick or treating with the kids in sky-high boots? Probably a bad plan! With a little foresight, you can pick something great and still be comfortable all night long.
We hope you've enjoyed our Halloween costume ideas 2023! Now that you've got your 2023 old school Halloween costume ideas, come show them off at Coloween – The Best Denver Halloween Party!