Spook your friends with these scary Halloween costume ideas for couples. Halloween is the only acceptable day for couples to wear matching ensembles. And if you and your better half aren't sure what to wear together this year, you're in luck! Below are scary Halloween costume ideas for couples daring enough to wear them at Coloween, the best Denver Halloween party, at Stockyards Event Center. Complete with amazing food, drinks, local entertainment and an epic costume contest with a $1,500 cash prize, Coloween knows how to do Halloween right.
With these ideas at your disposal, you two lovebirds have a leg up in the event's costume contest —historically, couples take home the first-place prize.
Scary Halloween Costume Ideas for Couples
Frankenstein's Monster and Bride of Frankenstein
For couples who want to don classic, yet scary, Halloween costumes this year, mad scientist Victor Frankenstein's laboratory-born creatures are your answer. Frankenstein's Monster, a ghastly looking beast with a sickly complexion and bolts bulging from his neck, and his gothic bride are as old-school horror as you can get. Their otherworldly characteristics are sure to give fellow Coloween-goers a good fright.
Chucky and Tiffany
"Hi, I'm Chucky, and I'm your friend to the end. Hidey-ho!" This phrase is spoken by a possessed doll named Chucky who would harm anything and anyone in his path. His accomplice and wife Tiffany is just as, if not more, sinister than her plastic husband. Chucky and Tiffany are the antitheses of "Toy Story's" beloved Woody and Bo Peep, which makes them worthy of being a scary Halloween couples costume.
Little Red Riding Hood and the Big Bad Wolf
What better fairy tale to inspire your Halloween costume this year than Little Red Riding Hood? The twisted tale follows a young girl as she travels through the woods to her grandmother's house. Her journey quickly escalates when she becomes the target of a maniacal wolf. Little Red Riding Hood and her nemesis, Big Bad Wolf, weren't compatible in their story. They are, however, the perfect pair for you and your boo to mold into your scary Halloween costumes for couples!.
Jack Skellington and Sally
He's long, lean and the Pumpkin King in "A Nightmare Before Christmas." It's Jack Skellington, of course. Clad in a black pin-striped suit and bow tie that resembles a bat, Jack is the poster child of Halloween in his home of Halloween Town. His story wouldn't be complete without Sally, a humanoid ragdoll poorly stitched together who always seems to lose a limb or two (or five) throughout the movie. No Coloween party would be complete without this quintessential Halloween couple in attendance. Be that couple and order your tickets at Coloween.com today!
Witch and Warlock
A witch and warlock are another classically scary Halloween costume idea for couples. Typically depicted in flowy dark garb, these spellcasting beings oftentimes exercise their powers against others. Although they are individually evil, together the witch and her warlock are an impenetrable force that you do not want to cross. Be these experts of hocus pocus and black magic at Coloween 2023.
Morticia and Gomez Addams
The love between Morticia and Gomez Addams is intense, evident and, well, dark. But then again, it wouldn't be the couple we all know and love without their idiosyncrasies taking center stage. They are the fearless leaders of their eccentric family that is oblivious to their weirdness. One trip to Hot Topic should get you and your partner all the items you need to pull off Morticia and Gomez Addams this Halloween.
Zombies
You and your partner already do everything together, so why not both turn to cannibalism this Halloween? Zombies are walking corpses that make up an apocalyptic world. They prey on living creatures. They moan and grunt and are typically not in any hurry unless they are chasing after their meal. While you'll find no shortage of zombies at the many haunted houses in Denver, every Halloween party needs a good zombie couple. That couple could be you at Coloween 2023, the best Halloween party above sea level. Learn all about it by visiting Coloween.com.
The Joker and Harley Quinn
The most bizarre and creepy love story unfolds in the DC Universe between the Joker, Batman's mortal enemy, and Harley Quinn (formerly known as Dr. Harleen Quinzel before she went off the deep end). Both driven by utter madness, there is nothing these two seriously sadistic lovebirds wouldn't do for each other. Sport their loud, crazy and colorful look at Coloween and you may very well win the event's costume contest. (Psst…winners go home $1,500 richer!)
The Purge Couple
Reenact the lethal couple from "The Purge." In the film, a dystopia America celebrates a 12-hour holiday, the Purge, where all crimes are legal. It's jarring and terrifying and the couple in it is among the holiday's creepiest celebrators. All you need are malicious grinning masks, fake weapons and "blood" splattered clothes to successfully achieve this scary Halloween costume idea for couples.
Beetlejuice and Miss Argentina
Transport yourself into the whimsical-meets-horrific world of Tim Burton's "Beetlejuice" this Halloween. Beetlejuice is a mischievous ghost who can be summoned from his grave by repeating his name three times. Miss Argentina, also a ghost, is a teal-colored receptionist of the afterlife. These iconic characters are a deadly combination to embody at Denver's BEST Halloween party, Coloween. Looking for things to do on Halloween weekend in Denver? Kick back with our selection of funny Halloween movies for adults.
Freddy Kreuger and Jason Voorhies
"A Nightmare on Elm Street" is one of the most timeless scary Halloween movies for adults. Ignore the fact that these slasher stars duke it out in the 2003 film "Freddy vs. Jason," because they make a killer costume idea for couples. Freddy, from "A Nightmare on Elm Street," is a disfigured killer who preys on people in their dreams. Jason is a serial killer who goes on a killing rampage throughout The Friday the 13th series. They are deranged and reckless pair that would kill to take home Coloween's $1,500 costume contest cash prize.
Edward Scissorhands and Kim Boggs
Clean-cut cheerleader Kim Boggs falls madly in love with Edward, an unfinished creation who has scissor blades instead of hands. Edward is a tortured soul who dreams of one day being able to hold his loved ones without harming them. Unfortunately, that day never comes. Edward and Kim, stars in yet another Tim Burton movie, are a scary costume idea for couples that never gets old to see.
Clown Couples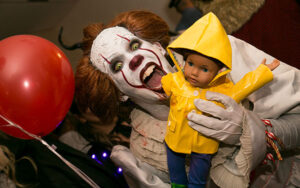 There is something innately wrong with clowns. How can someone be that happy all the time? Beyond their playful attire and silly tricks, clowns are unhinged characters who are almost always up to no good. Whether you opt to be a pair of scary circus clowns or Steven King's sinister dancing clown, Pennywise, for Coloween, one thing is for sure — no one will be laughing when they see you two arrive at Stockyards Event Center.
The Tethered Couple from "Us"
In Jordan Peele's "Us," two families exist: a run-of-the-mill family and their evil underground doppelgangers, known as the Tethered. Considering all the hype that surrounded this film when it hit the big screen, showing up to Coloween as The Tethered couple would likely be the talk of the night. And, if executed correctly, could put you in first place in the event's epic costume contest.
Michael Myers and Laurie Strode
Michael Myers is a horror icon and the essence of evil. He has no motive to kill — he does it for the sake of doing it. Scary, huh? Laurie Strode is a scream queen legend and the teenage babysitter who escaped Michael's deadly clench on Halloween night in 1978. Despite not being romantically involved, one cannot go without the other and thus makes Michael and Laurie the scary Halloween couples costume of your dreams.
Your Chance to Win $1500
Now that you have some good scary Halloween costumes for couples, it's time to enter into our annual costume contest! Unlike other Halloween events in Denver, Coloween features an enormous cash prize! Be sure to sign up when you arrive at Coloween at Stockyards Event Center for your chance to win $1500 cash!
Pick Out Your Costume:
Buy Tickets to Coloween Today!